Rubber Work Boots
Model:

BN003-6

Material

New Elastic PVC

Function

anti-squashy, puncture proof, anti-abrasion, oil resistant, anti- acid, anti-alkaline anti-slip

Size range

37-47

Height

375-395mm

Color

black, white, yellow, green, etc

Package

1 pair / poly bag, 10 pairs / carton

Measure

50*30*50cm
Contact Now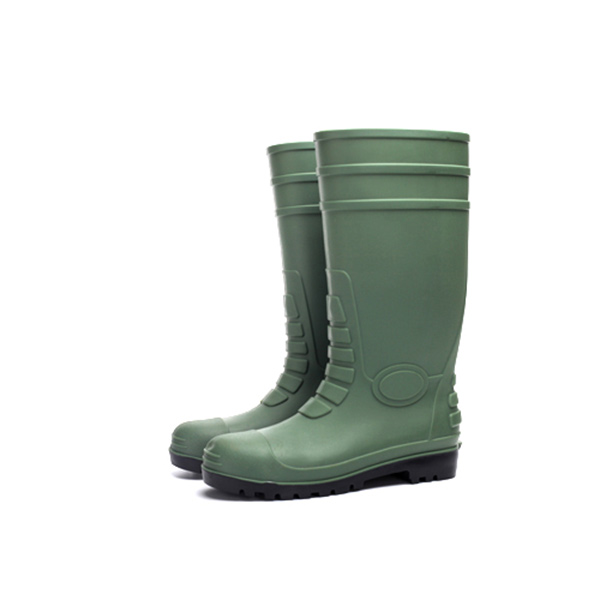 PVC boots with steel toe and steel plate
Bona high work boots emphasis reflects the characteristics of waterproof, seamless, smooth appearance, to ensure non-slip soles tactile design is not only easy for people to travel on rainy days, it can be widely used in water operations. To achieve effective water capacity, mainly reflected in the materials and production process. High work boots are made of PVC material, injection molding, beautiful appearance, using advanced molding process, each pair of high work boots have undergone rigorous waterproof testing, leak detection, insulation testing, ensure high quality boots. Our waterproof gumboots also have waterproof oil, acid, anti-corrosion, anti-smashing, anti-puncture, the advantages of the fire, not damaged, long service life.
Product advantage
High work boots making material is flexible, can flexible telescopic,not easy to folding deformation, natural rebound.
Professional grade PVC is made of excellent anti slip wear, the bottom of the shoe bump texture clear, strong ability to grasp.
The inside technology of high-grade cotton, feet dry and comfortable, not easy to slip in the boots.
PVC Injection molding, beautiful appearance, the high work boots are simple and elegant, fashionable and beautiful.
size chart
| | | | | | | | | | | | |
| --- | --- | --- | --- | --- | --- | --- | --- | --- | --- | --- | --- |
| Size | 37 | 38 | 39 | 40 | 41 | 42 | 43 | 44 | 45 | 46 | 47 |
| Height | 37.5 | 38 | 38 | 38 | 38 | 38 | 38.5 | 38.5 | 38.5 | 39 | 39 |
| Weight | 1.59 | 1.67 | 1.7 | 1.77 | 1.86 | 1.95 | 2 | 2.1 | 2.12 | 2.18 | 2.18 |
Feedback